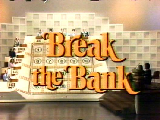 Aired
ABC Daytime, April 12, 1976 - July 23, 1976
Syndicated, September 18, 1976 - September 11, 1977
Run time
30 Minutes
Host
Tom Kennedy (ABC), Jack Barry (Syndicated)
Announcer
Johnny Jacobs, Ernie Anderson
Origination
Studio 55, ABC Television Center, Los Angeles, California
Break the Bank (not to be confused with the 1948 and 1985 game show of the same name) was a game of hide and seek where two contestants try and find three Money Bags to break the Bank which could be worth thousands of dollars in cash and prizes.
Game Format
Edit
Two contestants played a Hollywood Squares/Concentration-like game, while trying to break the Bank.
Two contestants, one man and one woman, faced a game board of 20 squares numbered 1-20 with nine stars seated around it. Behind those numbers were three money amounts in groups of three that touched each other along one side of board, five money bags which scattered all around the board and may or may not touch each other, five blank spots which never touched other, and one wild card which can be found anywhere & used for anything. The player in control called out a number, after which that box flipped over, and if a money box or the wild card was found, the host asked a question to the two stars connected to it. One celebrity gave a true answer (the correct answer), while the other gave a false answer (a wrong answer). The player's job was to choose the correct answer, doing so captured the box and place his/her symbol in the box, either a mustache or red lips (mustache for the man, lips for the woman); that player also kept control of the board. Choosing the wrong answer lost control to his/her opponent. Originally on a miss, the box would be flipped back to its normal position, but in later episodes, the box would be given to the opponent unless it triggered a win (for a win had to be earned by the player going for it); that's when it would be flipped back. Control of the board would also be passed if the player uncovered a blank space.
If a Money Bag was uncovered, the player in control could either take it (not having to answer the question, but also forfeiting control) or turn it back and select a different box.
The first player to capture one group of three matching money boxes won the game, the total of the amounts showing, and a special surprise prize. Capturing three Money Bags broke the Bank for at least $5,000.
ABC Version
Edit
In the Tom Kennedy version the money boxes were $100 (Yellow), $200 (Blue), and $300 (Orange) respectively; so the cash prizes for winning a game would be $300, $600, and $900.
The winners of each game faced another player unless the player defeated did not get a chance to play (at which point that player was invited back to play in the next game). They remain champions until defeated or until they exceeded $20,000 (champs can keep up to $25,000, however).
The bank was an increasing cash jackpot which started at $5,000 plus $500 (later $250) for every game it was not broken.
In this version the games straddled episodes.
Syndicated
Edit
Jack Barry's version replaced the blue $200 boxes with red $500 boxes, for a possible maximum winning total of $1,500. The $300 boxes were now blue while $100 stayed the same.
The Bank was a prize package worth more than $10,000 including a new car.
Contestants played for the entire show, and the first player to break the bank or the player who won the most games won the match.
When time ran out in the middle of a game or at the start of a game, players alternated turns picking boxes with no questions asked until one of the players got three of the same amount.
There were no returning champions.
Each episode was self-contained.
Bonus Game (Syndicated only)
Edit
The winner of the match also got a chance to play a bonus game for $5,000. In the bonus game, eight of the celebrities held a money amount ranging from $200-$1,000 in $100 increments, but one had a BUST card which bankrupted the contestant if found. The contestant picked off celebrities one at a time; each time he/she found a money amount, it was added to his/her score, after which the player would then decide to either quit with the money earned or continue picking. If the contestant reached $2,000 or more, s/he won $5,000.
The show was distributed by Colbert Television Sales.
International Versions
Edit
Main Article: Break the Bank/International
Merchandise
Edit
Board Game
Edit
Milton Bradley (1977)
Episode Guide
Edit
| Taped | Celebrities |
| --- | --- |
| 1976 | Nipsey Russell, Jaye P. Morgan, Jan Murray, Liz Torres, Bill Dana, Jessica Walter, Jack Cassidy, Adrienne Barbeau, and Dick Gautier |
Test episode for format change
Edit
| Taped | Celebrities |
| --- | --- |
| May 20, 1976 | Foster Brooks, Gunilla Hutton, Jaye P. Morgan, Buzz Aldrin, Jan Murray, Gail Fisher, Liz Torres, Greg Mullavey, and Abe Vigoda |
Spring 1976 ABC Series
Edit
| Week | Aired | Celebrities |
| --- | --- | --- |
| #01 | April 12-16, 1976 | Abe Vigoda, Alice Ghostley, JoAnn Pflug, Dick Gautier, Jan Murray, Lynda Carter, Liz Torres, Robert Hegyes, and Marjoe Gortner |
| #02 | April 19-23, 1976 | Anson Williams, Lee Meriwether, Liz Torres, Alex Karras, Jan Murray, Ja'Net DuBois, Sandy Duncan, Tom Bosley, and Pat McCormick |
| #03 | April 26-30, 1976 | Joey Bishop, Bill Dana, Arte Johnson, Beverly Garland, Jan Murray, Mary Ann Mobley, Liz Torres, Lawrence Hilton-Jacobs, and Rosey Grier |
| #04 | May 3-7, 1976 | Jimmie Walker, Elayne Boosler, Liz Torres, Craig Stevens, Joey Bishop, Meredith MacRae, Jaye P. Morgan, Buzz Aldrin, and Lonnie Shorr |
| #05 | May 10-14, 1976 | Marjoe Gortner, Shari Lewis, Liz Torres, Dick Gautier, Jan Murray, Dody Goodman, Della Reese, Ron Palillo, and Lonnie Shorr |
| #06 | May 17-19; 21, 1976 | Avery Schreiber, Alice Ghostley, Liz Torres, Bob Crane, Jan Murray, Ja'Net DuBois, Rue McClanahan, Mickey Dolenz, and Jimmie Walker |
| #07 | May 24-28, 1976 | Anson Williams, Dody Goodman, Soupy Sales, Dick Gautier, Jan Murray, Mary Ann Mobley, Liz Torres, Dr. Joyce Brothers, and Jaye P. Morgan |
| #08 | May 31-June 4, 1976 | Abe Vigoda, Buzz Aldrin, Jaye P. Morgan, Foster Brooks, Jan Murray, Gunilla Hutton, Liz Torres, Fred Mullaney, and Gail Fisher |
| #09 | June 7-11, 1976 | Jack Jones, Judy Carne, Abe Vigoda, Marty Allen, Joan Collins, Liz Torres, Dody Goodman, Jan Murray, and Anson Williams |
| #10 | June 14-18, 1976 | Avery Schreiber, Alice Ghostley, Jack Carter, Marilyn Michaels, Joan Collins, Robert Hegyes, Liz Torres, Lawrence Hilton-Jacobs, and Cathy Rigby |
| #11 | June 21-25, 1976 | Rip Taylor, Dody Goodman, Jaye P. Morgan, Dick Gautier, Judy Carne, Lonnie Shorr, Beverly Garland, Bobby Riggs, and Robert Reed |
| #12 | June 28-July 2, 1976 | Rip Taylor, Jo Anne Worley, Ken Berry, Dody Goodman, Avery Schreiber, Pat Carroll, Bill Macy, Marilyn Michaels, and Rick Hurst |
| #13 | July 5-9, 1976 | Dick Gautier, Dody Goodman, Marilyn Michaels, Robert Hegyes, Rip Taylor, Fannie Flagg, Jaye P. Morgan, Kent McCord, and Lonnie Shorr |
| #14 | July 12-16, 1976 | Jimmie Walker, Wolfman Jack, Jaye P. Morgan, Lonnie Shorr, Jan Murray, Robert Hegyes, Liz Torres, Elayne Boosler, and Barbara Sharma |
| #15 | July 19-23, 1976 | Soupy Sales, Donny Most, Bill Cullen, Jan Murray, Jo Anne Worley, Lonnie Shorr, Jaye P. Morgan, Joyce Bulifant, and Elke Sommer |
Syndication Series (1976)
Edit
This version had 24 episodes, according to Ian Wallis. Each taping session had four episodes; two would use the same celebrities and two more with a slight change in them.
Celebrities
Clifton Davis, Elena Verdugo, Jaye P. Morgan, William Conrad, Joey Bishop, Anson Williams, Barbara Eden, Hermione Baddeley, and Pat Morita
Clifton Davis, Elena Verdugo, Jaye P. Morgan, William Conrad, Joey Bishop, Anson Williams, Barbara Eden, Hermoine Baddeley, and Pat Morita
Anson Williams, Bob Crane, Jaye P. Morgan, William Conrad, Joey Bishop, Barbara Eden, Lee Meriwether, Bill Cullen, and Abe Vigoda
Anson Williams, Bob Crane, Jaye P. Morgan, William Conrad, Joey Bishop, Barbara Eden, Lee Meriwether, Bill Cullen, and Abe Vigoda
Orson Bean, Scatman Crothers, Elke Sommer, Jaye p Morgan, Buddy Hackett, Zsa Zsa Gabor, George Hamilton, Isabel Sanford, and Robert Reed
Orson Bean, Scatman Crothers, Elke Sommer, Jaye p Morgan, Buddy Hackett, Zsa Zsa Gabor, George Hamilton, Isabel Sanford, and Robert Reed
Jaye P. Morgan, Buddy Hackett, Anson Williams, Zsa Zsa Gabor, Greg Morris, George Hamilton, Isabel Sanford, Patty Duke Astin, Robert Reed
Jaye P. Morgan, Buddy Hackett, Anson Williams, Zsa Zsa Gabor, Greg Morris, George Hamilton, Isabel Sanford, Patty Duke Astin, Robert Reed
Jimmie Walker, Anne Meara, Nipsey Russell, Vicki Lawrence, Jan Murray, Pearl Bailey, Bob Barker, Shelley Winters, and Orson Bean
Jimmie Walker, Anne Meara, Nipsey Russell, Vicki Lawrence, Jan Murray, Pearl Bailey, Bob Barker, Shelley Winters, and Orson Bean
Jimmie Walker, Anne Meara, Nipsey Russell, Vicki Lawrence, Jan Murray, Pearl Bailey, Anson Williams, Shelley Winters, and Bob Crane
Jimmie Walker, Anne Meara, Nipsey Russell, Vicki Lawrence, Jan Murray, Pearl Bailey, Anson Williams, Shelley Winters, and Bob Crane
Greg Morris, Adrienne Barbeau, Elke Sommer, Abe Vigoda, Robert Hegyes, Jaye P. Morgan, Pat McCormick, Marion Ross, and Jack Carter
Greg Morris, Adrienne Barbeau, Elke Sommer, Abe Vigoda, Robert Hegyes, Jaye P. Morgan, Pat McCormick, Marion Ross, and Jack Carter
Jimmie Walker, Pearl Bailey, Jack Carter, Nipsey Russell, George Hamilton, Jaye P, Morgan, Paul Williams, Orson Bean, and Jo Ann Pflug
Jimmie Walker, Pearl Bailey, Jack Carter, Nipsey Russell, George Hamilton, Jaye P, Morgan, Paul Williams, Orson Bean, and Jo Ann Pflug
Abe Vigoda, Jack Albertson, Diane Ladd, Elke Sommer, Adrienne Barbeau, Robert Hegyes, and Orson Bean
Abe Vigoda, Jack Albertson, Diane Ladd, Elke Sommer, Adrienne Barbeau, Robert Hegyes, and Orson Bean
Abe Vigoda, Jack Albertson, Diane Ladd, Elke Sommer, Adrienne Barbeau, Orson Bean, Jack Carter, and Michele Lee
Abe Vigoda, Jack Albertson, Diane Ladd, Elke Sommer, Adrienne Barbeau, Orson Bean, Jack Carter, and Michele Lee
Jimmie Walker, Jo Ann Pflug, Jan Murray, Jaye P. Morgan, Nipsey Russell, George Hamilton, Esther Rolle, Bob Barker, and Orson Bean
Jimmie Walker, Jo Ann Pflug, Jan Murray, Jaye P. Morgan, Nipsey Russell, George Hamilton, Esther Rolle, Bob Barker, and Orson Bean