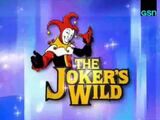 Taped
Unsold Pilot for Syndication, 2006
Run Time
30 minutes
Host
Mark Maxwell-Smith (Pilot 1)
Alex Cambert (Pilot 2)
Announcer
Charlie O'Donnell
This is chronicling the unsold 2006 pilot of The Joker's Wild produced by Sony Pictures Television.
Restoring the original 1972-1986 format with all values that were multiplied by 10X, the first to reach $5,000 was determined the winner. In the bonus round, if a player reaches $10,000 then they had a decision to either keep the money or risk it all by playing on it. In this instance, a second devil was added along with three car symbols. Getting all three of them won the player a luxury car.
At the time, this version was going to be pair up with another unsold game show pilot called Combination Lock originally hosted by veteran host Marc Summers in 2006. Then in 2007, by former soap opera actor, talk show host and former host of the short-lived 2006-2007 syndicated game show Merv Griffin's Crosswords Ty Treadway. However, both pilot failed altogether with no success.
Related Shows
Edit
The Honeymoon Game
The Joker's Wild
The Joker's Wild (1977)
The Joker's Wild (1990)
The Joker's Wild (2009 proposed pilot)
Snoop Dogg Presents The Joker's Wild
Gettin' Wild with Snoop Dogg